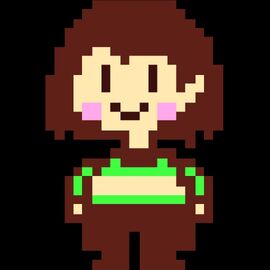 Name -
Chara Dreemurr
Species -
Human
Sex -
Undetermined
Height -
About 4 feet tall, I suppose?
Age -
Unknown (physically...about ten, I suppose?)
After falling into the Underground, Chara was taken in by Toriel and Asgore as a second child and was treated with respect equal to their biological son, Asriel. Chara and Asriel became best friends. Monsters spoke of how Chara filled the Underground with hope.
One day, after becoming terminally ill from consuming buttercups, Chara expressed the desire to see the Golden Flowers found in their home village. After their death, Chara's SOUL was absorbed by Asriel, and they shared control over a body. Chara carried their own corpse across the barrier and wanted to use their full power. Asriel resisted Chara, which ultimately lead to the humans killing the fusion of the two SOULs.
In the Genocide Route, Chara says that the protagonist's "determination" and "human soul" awakened them from death. There is evidence that some narration, as well as descriptions of certain actions and events, is by Chara themself. However, the narrator throughout the entirety of Undertale is up to speculation.
After completing a Genocide Route a second time, Chara takes on the description of "the demon that comes when people call its name." Chara says that the reason the protagonist continues to recreate and destroy the world is an incomprehensible "perverted sentimentality," before suggesting that the protagonist takes a different path if they choose to create the world again.

Powers and Abilities
- Proficiency with knives and guns.
- High speed and flexibility.
- Sharp wits and adaptability.
- High endurance and resillience.
- REGENERATION (by taking the SOUL of every Frisk who underwent a Genocide Route, Chara accumulated several inside their core, allowing them to respawn whenever killed in the place they died. This attribute is limited, however, to the ammount of SOULs harboured by Chara. When their last SOUL is killed, Chara shall die for good as well.)
- SOUL Blasts (Chara can crush the heart shaped SOULs it harbors to create a powerful explosion. This, however, automatically kills said SOUL, which also limits the use of this ability)
- SOUL stealing (Chara can steal a person's SOUL, but only when said person consents it)
STATSSpeed -
5
Strength -
1
Durability -
7
Energy Projection -
3